Childhood Cancer Survivor Bank
In Australia today almost 20,000 young adults are survivors of child cancer and one in three are expected to suffer a severe health problem as a consequence of their anticancer therapy. KCA is seeking to increase research opportunities for future NSW researchers analysing candidate clinical, therapeutic and germline genetic factors for a causal role in the late-effects of successful anticancer therapy. KCA is funding the harmonising of information into a single database with minimal clinical information such as the anticancer treatment received and tissue diagnosis, combined with banked germline DNA (gDNA) from peripheral blood leucocytes, for patients treated at either Sydney Children's Hospital Randwick or Children's Hospital Westmead.
The database and gDNA bank is managed by the existing collaborative Tumour Banks at Children's Hospital Westmead/Kids Research and Sydney Children's Hospital/Children's Cancer Institute. This management includes maintaining the database and tissue bank, and assessing, then complying with any requests for access to the gDNA samples and/or clinical information, in accordance with institutional ethical guidelines.  The first step is creation of a minimal clinical dataset and archiving of past patient clinical data and gDNA samples, followed by the creation of a prospective collection process, and a system of regular auditing which ensures the integrity of the data and samples, and assesses the ongoing usefulness of the data and samples.
Professor Richard Cohn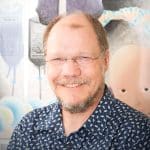 Associate Professor Dan Catchpoole