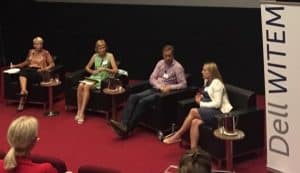 KCA bioinformatician Chelsea Mayoh says she was 'proud and honoured' to have represented KCA as a member of the panel at the Women in IT Executive Mentoring (WITEM™) event held in Canberra last month. The event was held on 21 November at Parliament House, and was launched by Foreign Ministger Julie Bishop.
The WITEM program was founded by Dell Australia in 2005 with the aim of addressing the low number of women in the IT industry, by providing women with dedicated executive mentors drawn from leaders in the industry. The program is unique in bringing together technology organisations and executives in a cross-mentoring structure that combines face-to-face mentoring with regular facilitated group sessions.
Congratulations Chelsea!