KCA warmly invites you to (in person) symposium to be held on 27th October 2023 from 8.30-5.30pm – with expert speakers from around the world, discussing the implementation and exciting progress of novel technologies in childhood cancer. Please see the flyer below and click on the link below to view an invited speakers' snapshot.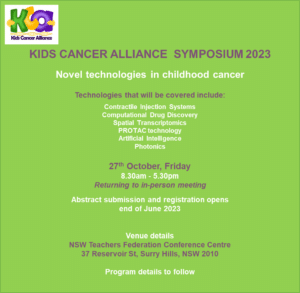 Invited speaker Biography snapshot_KCA 2023 Symposium
Note that detailed invited speaker biography and program to be circulated close to the date.